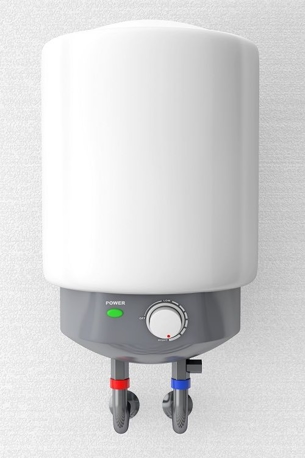 At Douglas Orr Plumbing, Inc. we know a tankless water heater is also referred to as the demand-type or instant hot water heater. And that's because it heats water instantly on demand. Now even if this type of heating unit doesn't have a tank, sediments and minerals may still accumulate in its system thereby, resulting to the corrosion of its heating chamber. And when that happens, you'll know what to expect. Your hard-earned money will be put to waste because this expensive investment will malfunction up to that point when it can no longer be used. So with that said, let us share with you this easy DIY guide on how to care for your tankless water heater.
1. Before tinkering with your hot water heater, make sure that it's not powered on. You also have to turn off the main circuit breaker and shut off the main gas line to prevent accidents. Also turn off the water valves connected to your unit to prevent water from flowing into and out of the appliance.
2. When you're done, you have to detach the purge valves' caps. These look like the letter "T" and are situated on either side of the water valves. Doing so will release any pressure that has accumulated inside the valves while at the same time avoid hot water from shooting out and burning your skin.
3. When the purge valves' caps are removed, you have to connect your hosing lines to the valves. Your unit should have come with three hoses but if it didn't, you can purchase these things from any hardware or home repair shops. You can also get them from retail stores that sell water heating systems. Read the user's manual and follow it to complete this task properly. When the hosing lines are connected, open the purge port's valves.
4. You should never use harsh chemical cleaners or solutions when cleaning your unit. Make use of white vinegar instead. It should be undiluted and you'll probably use about 2 gallons.
5. Now flush your water heater. This task should probably take about 40 minutes. We can't give you specific directions for this because the procedure is carried out depending on the type, model and brand of your heater. With that being said, refer to the user's manual.
6. When you're done draining the unit, you have to turn off the purge port valves again. Remove the hosing lines that you earlier installed on each of the water valves. Put the valve caps (purge port) back in their respective places and be very careful so as not to damage the rubber discs that are found inside these caps.
7. Now that everything's back in place, check your user's manual again to find out how to reactivate your water heating system.
8. Once it is working, turn one of your hot water faucets on just to let air pass through the heater's water supply pipes. Leave the tap on until water flows smoothly out of it.
We hope that you learned how to maintain your instant hot water heater from our blog today. Should you need assistance with this task, just hire local Golden Beach FL plumbing experts. Douglas Orr Plumbing delivers top-notch plumbing services in Golden Beach FL including water heater service, leak detection, backflow prevention, bathroom fixture remodeling and many more! Call us now at (305) 240-6731 !
Learn how to repair leaking pipes at home! Watch our video and get awesome tips!