Backflow Prevention Plumbing in Miami
Providing Effective Plumbing Services for 40+ years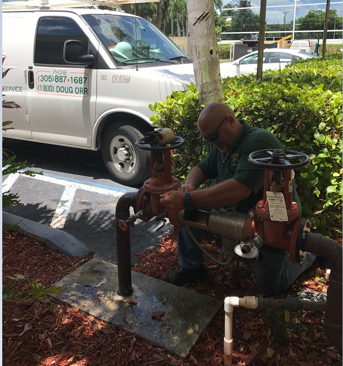 Backflow prevention services are necessary to impede the flow of non-potable water from sewage and public drainage systems into your plumbing systems, which occur at cross-connections. They are important for health and safety in terms of keeping pollutants and contaminants out of drinking water and essentially maintaining clean water flow through your property's piping. Many plumbing regulations now require backflow preventers in place. At Douglas Orr Plumbing, Inc., our backflow prevention plumbers can provide installations and repairs of backflow prevention devices in addition to testing for building inspections. Unlike most other companies, our Miami backflow prevention technicians are certified professionals.
Depend on our licensed and experienced staff to resolve your backflow problems. Reach out to our plumbers at (305) 240-6731 for proficient backflow prevention plumbing in Miami!
What are Backflow Preventers?
Backflow preventers are plumbing devices that are specially designed to impede the onset of water contamination not only in residential properties but also in commercial establishments, too. In the state of Florida, these devices are required to be installed in certain establishments such as car washes, restaurants, medical centers, beauty salons, automobile repair shops, barber shops and dry cleaners.
Unfortunately, the installation of backflow preventers is not for the DIY plumbers. These devices can only be installed by our licensed Miami backflow prevention technicians who have passed backflow prevention examinations and acquired the necessary certification.
Accurately Diagnosing the Causes of Backflow
Backflow takes place when emergency hydraulic events within the public and private water distribution system affect the drinking or potable water supply. Negative or high pressure can cause contaminants to enter potable water pipes.
For example, backflow can occur in the following instances:
A broken water distribution pipe or water main
Drainage from properties resulting from plumbing work
Large quantities of water used by the firefighters during emergencies
Equipment or processes using pressure greater than that of the normal water distribution
Large-scale power outages
Our Backflow Experts are at Your Disposal
Our plumber in Miami provides backflow prevention in, Broward, and Palm Beach counties as well. We service both commercial and residential establishments -- no job is too big or too small! Whether you need repairs or help with certification processes involving backflow, our Miami plumbers are here to assist you. We have served the South Florida region for over 40 years, conducted more than 33,000 service jobs within the last two years, and can help you with anything related to plumbing.
Make an appointment at (305) 240-6731 for the excellent service can you expect from Douglas Orr Plumbing! Call now for fast and efficient backflow prevention plumbing in Miami.