Your Leading New Construction Service
Learn More by Taking a Look at Our Past Projects!
Brickell City Centre $43 Million

Brickell FlatIron $13.6 Million

Epic Hotel $12.5 Million

900 Biscayne $10.8 Million

Jade Brickell $7.2 Million

Jade Beach $7.2 Million

Santa Maria Condo $5.8 Million

1800 Club $5.7 Million

Espirito Santo Plaza $5.3 Million

Turnberry Village $5.3 Million
Miami New Construction Plumbing
Exceptional Plumbing Solutions for Your Commercial Property in Miami-Dade, Broward & Palm Beach Counties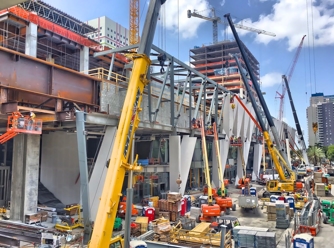 Do you need new construction plumbing installations for your company or place of business? If so, contact the skilled and experienced plumbing technicians at Douglas Orr Plumbing, Inc. today! Our licensed plumbers are constantly undergoing training in order to stay on top of all the latest technologies and techniques in the plumbing world. Backed by over 40 years of in-depth plumbing experience, you can be sure that we have the skills and knowledge necessary to handle all your Miami commercial plumbing construction needs.
Contact us online or feel free to call us today at (305) 240-6731 to schedule an appointment!
We Handle Projects of All Sizes
When we say there is no job too big or small for us to handle, we really mean it. Our licensed new construction plumbers take on small to medium size projects ranging from $1,000 to $500,000, as well as large projects that exceed $500,000.
Handling new builds and ground-up work, our commercial plumbing team has successfully completed over half a billion dollars in construction jobs over the past 45 years. Needless to say, we have a comprehensive understanding of how to finish these jobs properly and on schedule.
Professional Plumbing for New Builds & Ground-Up Work
If you are starting from scratch on building a new commercial property, it involves a lot of crucial planning. One of the most important elements of any commercial building plan is the plumbing. A poorly designed or improperly installed plumbing system can lead to a host of future problems that cause extensive damage to the new structure and cost tons of money to repair.
The way to ensure that your property is equipped with the right plumbing system from the ground up is to hire our experienced commercial plumbers. We will make sure that the entire network of your pipes, drains, and vents is expertly designed and installed for maximum performance and durability.
We have extensive experience installing all plumbing components for new construction projects, including:
Sewer lines
Underground water lines
Sewer and grease drains
Parking lot drains
Medical gas piping
Interior plumbing systems
Drain-waste-vent systems
Bathroom plumbing
Kitchen plumbing
See Our Work for Yourself
Though we promise high-quality construction work, you don't have to take our word for it! All you have to do is check out our construction gallery and judge it yourself. We have 100 percent faith in our employees' plumbing abilities and our ability to satisfy our customers' every need. To view and learn more about our recent Miami plumbing construction projects, visit our gallery!
Some of our recent new construction projects include the following, and more:
All Aboard Florida
Brickell City Center East Block
Costco Warehouse
Whole Foods Market
Aventura Medical Center
Brickell Flatiron
Midtown 29
Contact us today to speak with one of our experienced plumbers and schedule an appointment for all your new plumbing construction in Miami. We are always here to help!
We Know A Picture Is Worth A Thousand Words
Check out our photo gallery for photos of our latest construction work & see what our team can do for you!