New Construction Plumbing in Miami
We Can Handle All Your New Plumbing Installations Today!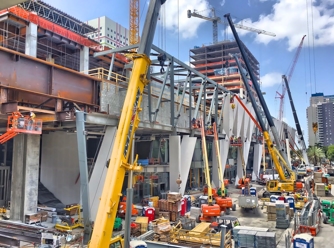 Do you need new construction or plumbing installations for your company or place of business? If so, contact the skilled and experienced plumbing technicians at Douglas Orr Plumbing, Inc. today! Our plumbers are constantly undergoing training in order to stay on top of all the latest technologies and techniques in the plumbing world. Backed by over 40 years of in-depth plumbing experience, you can be sure that we have the skills and knowledge necessary to handle all your commercial plumbing construction needs. You can count on us to proficiently resolve all your plumbing issues in a timely and professional manner.
Contact us online or feel free to call us today at (305) 240-6731 to learn more about our new plumbing construction in Miami and schedule an appointment!
Providing Fast & Efficient Construction Services
When you need a new installation or construction project for your business, we understand that you need it quickly. Otherwise, it may negatively affect your ability to operate efficiently as a company, thereby harming your profits and business in general. With Douglas Orr Plumbing, you can trust us to show up on time, fully prepared, and ready to tackle all your plumbing problems. It doesn't matter how large, small, or difficult your plumbing needs may be because our plumbers can handle them all. We have successfully completed over over half a billion dollars in construction jobs over the past 40+ years and we have a comprehensive understanding of how to finish these jobs properly and on schedule.
See Our Work for Yourself
Though we promise high-quality construction work, you don't have to take our word for it! All you have to do is check out our construction gallery and judge it yourself. We have 100 percent faith in our employees' plumbing abilities and our ability to satisfy our customers' every need. To view and learn more about our recent construction projects, visit our gallery here!
Some of our recent new construction projects include the following, and more:
All Aboard Florida
Brickell City Center East Block
Costco Warehouse
Whole Foods Market
Aventura Medical Center
Brickell Flatiron
Midtown 29
You can reach us at (305) 240-6731 to speak with one of our experienced plumbers and schedule an appointment for your all your new plumbing construction in Miami. Call us today!