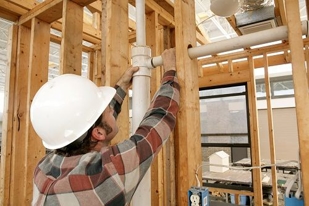 If you're in the process of planning for the construction of a new home, you should have ideas about the cost of plumbing installation. Surely there are different elements that influence the cost of the project and those factors are what we want to talk about today. Home and business owners need to be financially prepared for the expenses entailed and so it would help you a lot if you'll understand how plumbing jobs are estimated. This way, you'll not only be prepared budget-wise but you'll also be ready to make new decisions should complexities arise.
1. Estimation Based On Square Foot Costs
According to reports, the national average cost of plumbing work per square foot amounted to $4 in 2012. However, note that there are areas that charge more and areas that charge less. For instance, reports claimed that plumbing companies in San Francisco charged $5, a dollar more than the national average. Anyway, these are only estimates and do not represent the actual price. These are only used to give you an idea on how much money you should prepare if you'll work with plumbing professionals. Remember, while you can do some plumbing work on your own, there are tasks that actually require the expertise of licensed plumbers.
2. Excavation Costs
Of course, new constructions will require you to excavate in order to lay out the water lines and drainage pipes. Now, this isn't as simple as using a shovel to dig the ground. This task involves the use of high-end and professional-grade equipment that can only be operated by a trained crew. With that said, you'll have to set a budget for these men. On average, the cost ranges from $80 to $200 per yard but of course, the rate depends on other factors as well.
3. Pipe Measurement & Supplies
Another factor that you should take into consideration is the type, diameter and length of the pipes that will be used for the construction. PVC pipe is apparently the cheapest option but know that the cost will still get bigger if the diameter of the pipe is bigger. Fittings also vary in terms of size and type. So just be prepared and take time to do your homework. Ensure that you'll seek the advice of a professional when making decisions to avoid plumbing problems in the future.
4. Two-Story? Three Story?
Obviously, measuring the square footage of the new construction is not enough. If you are planning to add a second or a third level to your house, there will be additional work, additional supplies to be used and of course, additional cost.
5. Location, Location, Location
We have always mentioned that plumbing fees differ across states or areas and that's a fact. Depending on where the new home or establishment will be built, the plumber fees entailed will vary.
6. Professional Or DIY
So you know that doing plumbing work on your own will cut down your expenses. However, you should anticipate that it might take you more time to complete the project if you're not that skilled. You should also be aware that professionals are more equipped, skilled and trained for these types of job. They know the local plumbing codes and regulations that should be followed when excavating, laying out pipes or installing plumbing appliances. So instead of wasting time and compromising safety, just let the professionals do the dirty work for you.
We hope that you learned how much does plumbing cost for new construction through our blog today. If you need help right now, just call a reputable Miami plumber for your plumbing needs. Douglas Orr Plumbing provides top-notch plumbing services in Miami FLincluding plumbing repairs, remodeling, repiping, gas system installation, sewer cleaning and many more! Call us at (305) 240-6731to schedule a service!
Learn all about the most common plumbing tools that you should have handy. Watch this video now.